my old websites

» animagic 2000
» animagic 2001
» animagic 2002





| | | |
| --- | --- | --- |
| | Yodobashi-Akiba Game & Anime floor (GoPro Hero3) | |
| | Checking out the 6th floor one of the biggest electronics markets in the world. Playing Bayonetta 2, see some games already on sale in Japan (Dragon Quest X, Persona, ... ) that will come to Europe later this year .... maybe next, maybe never. Also checking out anime corner Sailor Moon DVDs still available ... Studio Ghibli Corner for BluRay and DVD | |
| | | |
| --- | --- | --- |
| | Japanese-German exchange program 2013 | |
| | Japanese group going to Germany This August a Japanese group of 9 youngsters with Gyu-chan, visited us in Kreis Steinfurt (Muensterland-Germany) to drink german beer and eat oishi sausages. But there will be more then just this! German and European volunteers have participated on this program to set up a nice and fun-schedule. 要約は、今スタート... | |
Yodobashi-Akiba Game & Anime floor (GoPro Hero3)
Checking out the 6th floor one of the biggest electronics markets in the world. Playing Bayonetta 2, see some games already on sale in Japan (Dragon Quest X, Persona, ... ) that will come to Europe later this year .... maybe next, maybe never. Also checking out anime corner Sailor Moon DVDs still available ... Studio Ghibli Corner for BluRay and DVD
| | |
| --- | --- |
| » full story posted by Kaneda – Mon. 22.September 2014 | » 0 comment's |
Sakura Season 2014 in Tokyo (Ueno)
| | |
| --- | --- |
| » full story posted by Kaneda – Tue. 25.March 2014 | » 0 comment's |
Japanese-German exchange program 2013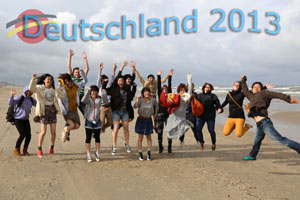 Japanese group going to Germany

This August a Japanese group of 9 youngsters with Gyu-chan, visited us in Kreis Steinfurt (Muensterland-Germany) to drink german beer and eat oishi sausages.
But there will be more then just this! German and European volunteers have participated on this program to set up a
nice and fun-schedule.

要約は、今スタート...

| | |
| --- | --- |
| » full story posted by Kaneda – Sun. 08.September 2013 | » 1 comment |